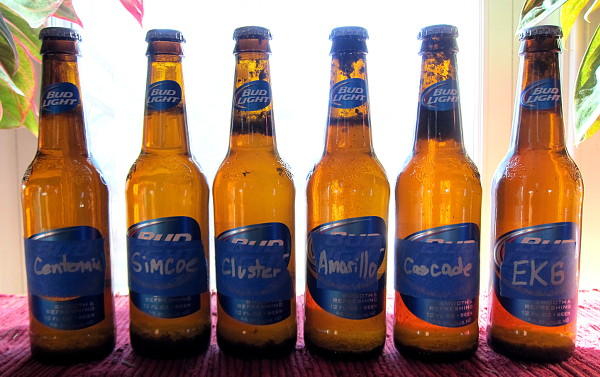 Want to know what hops actually taste like?  Try this experiment: dry-hop Bud Light.  Many have done this before, but Brew It Right wants some input too.  The concept is easy; buy some Bud Light, drop-hop it, wait 5 days, and drink it!  Obviously it's slightly more difficult, so learn from our mistakes:
Bud Light uses twist-off caps.  Re-capping with new crimp-style caps fails for half the bottles, so instead, try to re-twist the original caps using a towel to get a good grip.  Failure to seal has two problems. First, the Bud will foam on contact with the hops and may come out the top, which leads to the second problem: the beer will be flat and you won't get much flavor or aroma.
Use around 0.1 to 0.2 ounces of hops per bottle, that's usually a couple pellets per bottle.  This gives a good balance between aroma, flavor, and bitterness without creating grassy or tea-bag flavors.
After you've re-capped the bottles and the foam settles down, swirl the bottles a bit to make sure the hops don't stay at the top.
Label your bottles and your glasses when tasting, otherwise you might mix things up and all will be for naught.  Masking tape works well, but you can class it up with blue painters tape for extra style points!
Use a small strainer to filter out any hop bits when pouring into the tasting glasses.  You want to sip the beer, not chew hops.
Due to #1, only the Simcoe, Centennial, and the Amarillo bottles held pressure, which made the flavor and aroma crisp and very apparent.  The others were muted and muddled, and pretty worthless for testing.  If you haven't done this before, it's very surprising how well the hops come through.  Centennial had a definite fruit smell and very clean flavor, while Simcoe had resin/earthy/pine notes.  While doing this you can just imagine what beer you can brew that will work well with the various hops.
And as it turns out, Bud Light goes very, very well with Centennial…